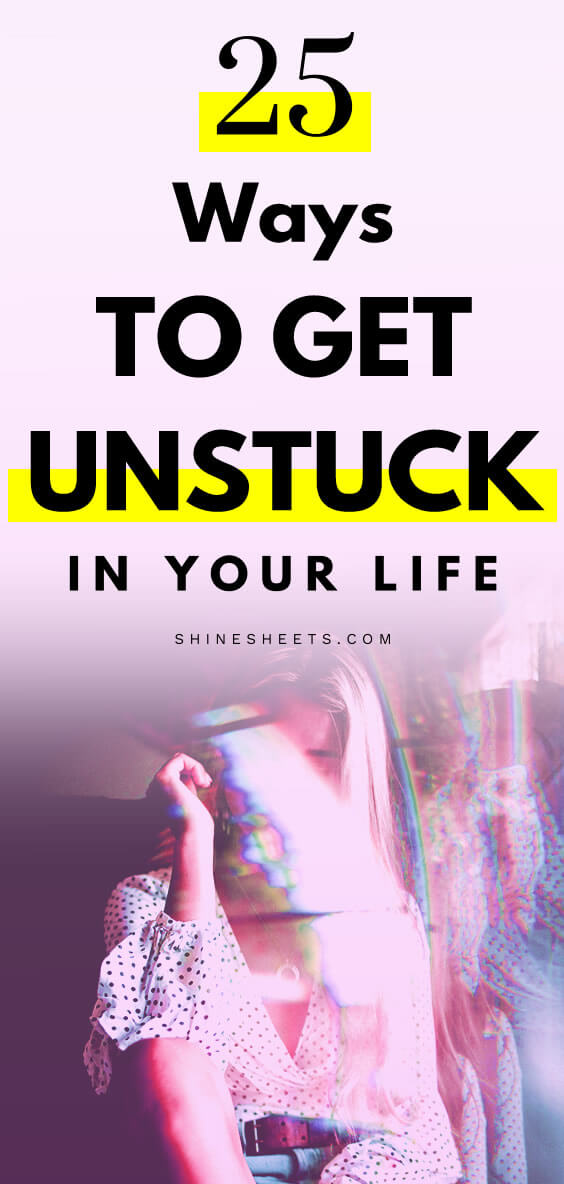 Hey pretty! Seasonal changes almost always get me in a slump. I become bored, unmotivated and stuck – basically just too tired to move (please don't judge!).
And there's nothing wrong with being a little under the weather.
We, as humans, should be able to accept and feel all the emotions life gives us. Otherwise, it's just a boring trip.
But if you've been in a slump for way too long and don't have the motivation to do anything, it may be time for some changes.
Now, getting unstuck may be hard, especially if you've been in the same routine for a long time.
You may feel lazy, depressed, irritated and at the same time – angry that you're feeling this way and that you have to do anything at all ("I have enough on my head already").
It's worse than a Minotaur's labyrinth – you want to find a way out, but you're just too tired to keep looking for it.
So try to take things easy and, instead of making huge changes, change up a few smaller things instead.
Surprisingly, it works pretty well!
A few simple tweaks start the engine going and from that moment it becomes so much easier to move on.
Here are 25 ways to shake up your world a little and start moving forward:
P. S. Click on the purple links to get related tools & tips!
1. Change your song playlist (+ invest in new headphones if you can!)
2. Start a new planner:
To DIY a superb planner, you can get my printable Planning Super Pack right here on ShineSheets store (pretty convenient, right? 🤗) It has a whole bunch of minimalistic planning tools for daily, weekly, monthly, yearly and other types of planning to help you get your time and life in order:
3. Start working on a new habit:
4. Move some furniture around in your room.
5. Start a side hustle.
6. Buy a new inspiring book:
7. Start journaling for your mental wellness. Here's a few tools that can help you get started:
8. Learn new things with online courses:
9. Go on a trip (even a small one).
10. Change your style or hair color.
11. Start practicing gratitude:
12. Find a new way to exercise.
13. Create a challenge for yourself:
15. Start therapy if you've been feeling low for too long.
16. Organize and declutter your home:
17. Decide on a simple goal and start working on it:
18. Start practicing yoga & meditation.
19. Become serious about your water intake.
A good water bottle can really help a lot with this one.
20. Change up the meals you eat.
21. Create a vision board.
22. Buy yourself new, pretty underwear.
23. DIY a life binder and sort things out completely
24. Start getting up earlier and go on morning walks.
25. Visit someone you love and have been missing.
Whenever you find yourself feeling lazy and unmotivated, try (or even force yourself if you need to!) to do one thing from this list.
It will stir your rut up a little and spark up excitement for something new.
Sometimes it's all it takes to feel better! And if nothing else helps, consider trying natural supplements that increase serotonin – happiness hormone – production in your brain, like 5-HTP, a natural amino acid that is essential for serotonin creation process:


I have taken such supplements in the past and they did improve my mood and ability to deal with everyday tasks. Since 5-HTP is derived from natural sources like Griffonia Simplificolia plant, it also has no major side effects, so it's really worth giving a try!
Stay well.
Scroll down for more tips!
♥ P. S. Like this article? Have any thoughts? Join (or start) the discussion at the bottom! ♥